SEO Basics Tutorial, Search Engine Optimization How To.
Get the SEO basics right, before you dig deep! Content creation beginner, intermediate, or expert alike, when you publish a web page on the Internet, your primary intent is to share useful content to your target audience. To get it to your audience, you either share it through emails, social media, or you can make it easily and organically searchable via search engines. This is where Search Engine Optimization (SEO) comes into play.
What is SEO? If you will.
There are many search engines around such as the most popular Google or Bing. Their rules and criteria of how to make the online content pages searchable may be different and keep changing. It will be an arduous task to get everything, if not most, right for all of them. It takes time and effort.
Here, we share with you the most important attributes based on past experience, to make your content well optimized for search engines. Focusing on the most popular search engine (or at least your preferred), say Google. When the results rank well on the top search engine, the rest should follow.
Let's get started and going!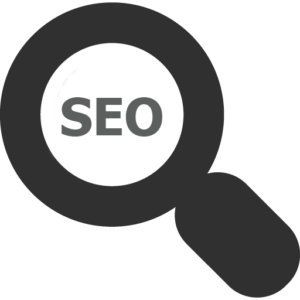 SEO Basics Tutorial Tip 1: Relevant, unique and quality content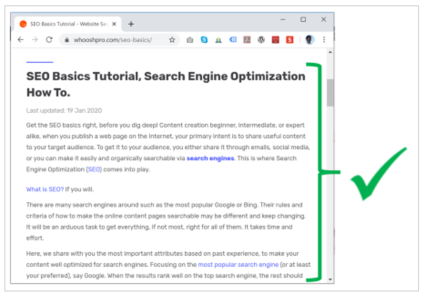 The most important will have to be the relevance and quality of the content. It is a supply and demand situation. If your content is unique and useful to your audience, the demand will rise, and sustain. When demand rise, so will search engine ranking. Search engines follow human behavior to search for relevant and accurate information. They mimic closely to human search patterns to weigh and rank search results.
SEO Basics Tutorial Tip 2: Search keywords or key phrases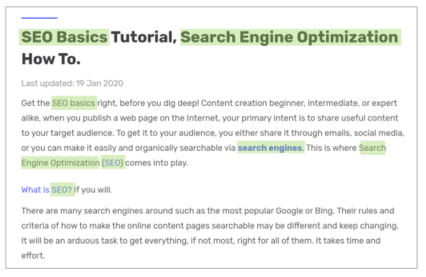 Identify your focus keywords or key phrases. Use them at least 2 times within the content and emphazie them in your proper language, naturally. Do not turn to keyword stuffing. This way, your reader will understand your intent, and so will the search engine.
SEO Basics Tutorial Tip 3: Browser title, page title and URL clarity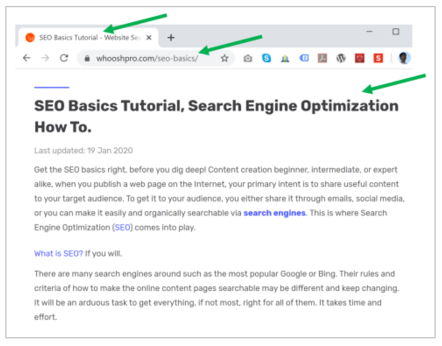 Your focus keywords or phrases should be easily and concisely found in the browser title, page title or URL. Preferably at the very start of the sentence. This is logical, because they are the key attributes of your web page that a user will identify with, quickly and memorably. They are visually apparent to the reader. Search engines will give priority to these attributes when displaying in the search results. Simply and logically because they can also be speedily identified in the search result display context. And do not underestimate the power of a well crafted SEO friendly URL.
SEO Basics Tutorial Tip 4: Meta description (yes) and meta keywords (not so much)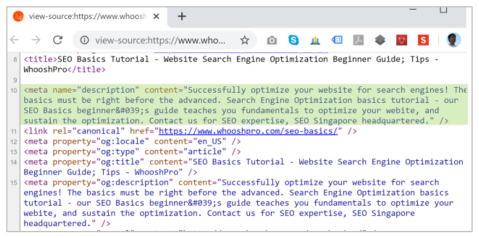 Make a point to write good summary of your page through the Meta Description. It will give search engine a choice to display this if it cannot find any more appropriate blurb within your visible content body (based on the user search context), to display on the search results summary or blurbs. If you will, use the Meta Keywords to add related keywords or phrases in relation to your content. But today, Meta Keywords may not be the most important factor or sought after attribute for search engines ranking as they are hidden behind human eyes – not visually apparent or user centric, and provide no real value to the human reader.
SEO Basics Tutorial Tip 5: Internal links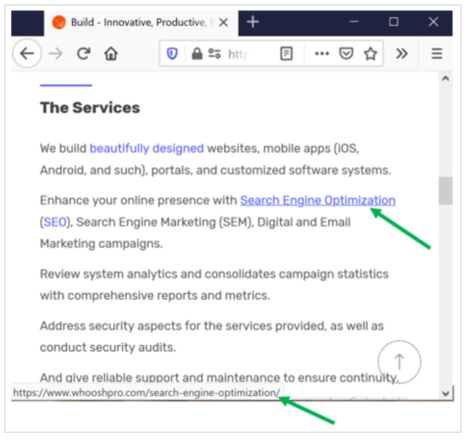 Where applicable, link to related or continuation of curated content within your website. This helps reader gain knowledge and information progressively, and at the same time, get them to understand your website information architecture. Search engines will also be able to crawl your related internal links and infer userful information about your content structure. They collect related information that transpire information into search index catalogue, ranking and weighing mechanism.
SEO Basics Tutorial Tip 6: Linkable, shareable content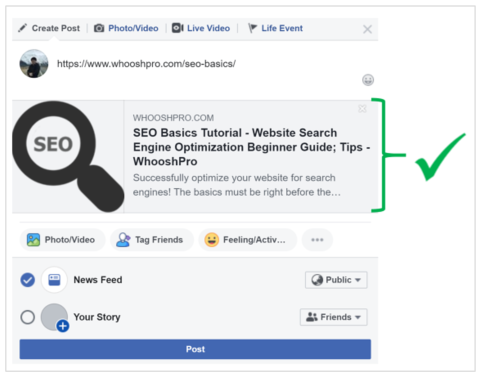 Your content page should be linkable. So that you or your reader can easily share via email or social media. Make good use of Open Graph meta tags (such as og:image and og:description) to enhance your user share experience on major social media platform sharing by curating meaningful share snippets. Coupling well curated share title and description will definitely go a long way to improve overall searchability. Good content deserves to be shared, and ranked high for other users' benefit. Naturally, more shares and circulations lead to higher traffic to your website, the more the search engine will want to bring your content to relevant content searchers. Think about how you hear a hot news from TV and your search for related news on the search engine appears at the top results in just a short period of time (in matter of hours). Hot topics, when there is buzz, gain high traction. And better still, useful information tend to attract backlinks which further attest to your content value. As a result, add to your site's search ranking.
SEO Basics Tutorial Tip 7: Link to external references or facts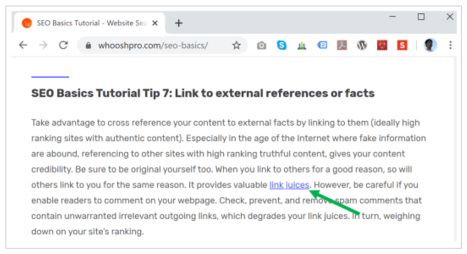 Take advantage to cross reference your content to external facts by linking to them (ideally high ranking sites with authentic content). Especially in the age of the Internet where fake information are abound, referencing to other sites with high ranking truthful content, gives your content credibility. Be sure to be original yourself too. When you link to others for a good reason, so will others link to you for the same reason. It provides valuable link juices. However, be careful if you enable readers to comment on your webpage. Check, prevent, and remove spam comments that contain unwarranted irrelevant outgoing links, which degrades your link juices. In turn, weighing down on your site's ranking. Search engines today value authentic and true cross reference links, like human do, when useful content are factually correlated and easily found.
SEO Basics Tutorial Tip 8: Fast loading and responsive displaying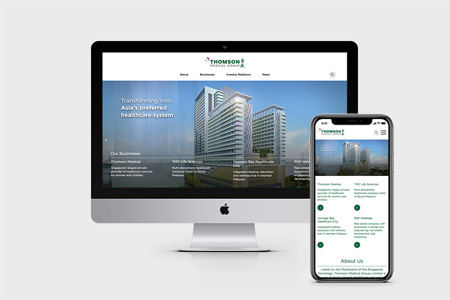 From day 1, make web page speed of loading and responsivity the key goals to achieve. Optimize your web pages and digital assets in your website for faster serving to your audience. Striking a balance between speed and quality of your digital assets. Develop your web pages to be well displayed to as many device form factors as possible. With a fast loading site, you will minimize visitors drop out rate due to long waiting time, reaching the furthest visitor in shorter time. With a responsive website, you will cater to a widest reach possible to visitors using a variety of modern devices that spans different screen sizes. With fast, far and wide reach for your website to your visitors, search engines will naturally pick you up like how your visitors will.
In conclusion, the SEO basics are pretty much related to human search behavior, the way your target audience search for your content via keywords or key phrases. Your content must be useful and supply to a demand. Bear in mind to cater to your users content needs and give quality over quantity. Provide useful and genuine content for consumption. And of course, make your website speedy, and reach the furthest and widest possible audiences, with good responsivity. With the help of our SEO basics tips, you should do pretty well ranking high and relevant in search engines results.
Having strong basics, you can then progress to the more advanced, confidently.
Here is one place you can dig into SEO further. It is a book on its own.
Or go on with some practical SEO tutorial. As the way to level up and rank up, is through practice and continuous fine tune.
Contact us if you need expertise to make your website SEO optimized, or any SEO related matters.
Last updated: 29 Mar 2020